About Us
The foundation of education business was laid in 2008 as a backward integration of existing business where there was strong need of talent to join and expand the existing business working. Due to the group's strong orientation towards knowledge based activities, education became one of the driving forces in the overall working. The objective of building a business clubbed with giving back to society made this vertical the most prominent vertical for the group.
The education company Kredent InfoEdge Pvt Ltd (formerly Kredent EduEdge Pvt Ltd) owns brand Kredent Academy. The Academy is into training people on finance and making them aware about various intricacies of financial management.
Mission
To become a benchmark training centre for capital markets in India.
Kredent Academy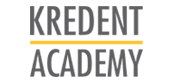 Contact Person
Vineet Patawari
Director, Kredent InfoEdge Pvt Ltd(formerly Kredent EduEdge Pvt Ltd)
9830264971
Contact Details